How to Convert Novell GroupWise to Outlook PST 2016, 2013, 2010, or 2007?
Summary – The blog focusses on educating users to convert Novell GroupWise to Outlook PST 2016, 2013, 2010, or 2007 versions while comparing their advantages and disadvantages.
Both Outlook and GroupWise are a messaging application that offers their users to carry out multiple activities. You can drop emails, maintain Contacts, Schedule Calendars, manage personal information, message instantly, etc. With this, it can be easily said that it provides almost the same features as Outlook. In addition, it consists of desktop client software for Windows, Linux, and Mac OS X whereas Outlook is available for Windows and Mac only.
However, since the advent of Novel GroupWise and MS Outlook, there has been a continuous debate online as to which is a better email client than the other. Nonetheless, as both are rich in feature and offer a lot of functionalities to users, it is difficult to draw a conclusion as to which of the two is better. And, there can be different reasons for different users as to why they wish to migrate from Novell GroupWise mailbox emails to Windows Outlook (2016, 2013, 2010, or 2007) PST format.
Converting Novell GroupWise mailbox to Outlook PST Format
There are two ways by which you can convert emails of GroupWise mailboxes into Outlook PST file format, irrespective of the reason for conversion. 

Method 1: The Manual Way         
It requires two major steps:
Create GroupWise Archive Directory or archive emails of GroupWise
Download GroupWise unlimited mailboxes/archives in Microsoft Outlook
Let's look at each —
First major step: Creating GroupWise Archive Directory or archiving emails of GroupWise mail client
The steps to create GroupWise Archive Directory or archive emails of the GroupWise mail client are as follows:
Step 1: Sign into to your GroupWise account by entering the correct username and password.
Step 2: Go to Tools > Options. Further, click on the Options tab.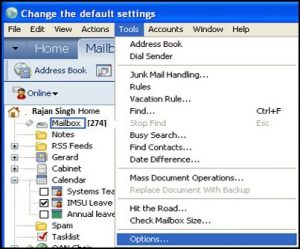 Step 3: In the 'Options' interface, select the Environment option and click on the Close tab.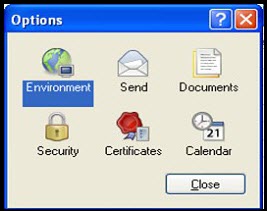 Step 4: In the Environment interface, go to File Location option. In its 'Archive Directory' box, enter the location of the file or you can type the desired name. Further, click on the OK tab.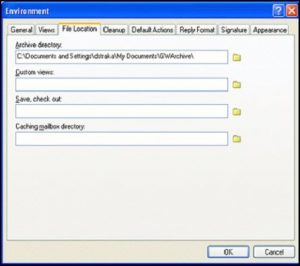 Step 5: 'Do you want to create the directory' message will appear on the screen wherein you have to click on the 'Yes' tab.
Step 6: For the 'Do you want to move the contents of your existing archive' question that appears on your screen, click on the No tab.

Next, you need to archive the emails of GroupWise Mailbox.
Archiving emails of GroupWise Mailbox
The emails of the GroupWise mailbox that are archived using 'Archive Directory' can be easily accessed in Microsoft Outlook platform. Follow the steps below to archive an email of GroupWise mailbox:
Sign in to your GroupWise desktop email client by entering the login credentials
Ensure that you possess an Archive Directory and visit Mailbox
Select an email from a single mailbox or multiple mailboxes
Select the Move to Archive option
The process of archiving a single email takes less time and hence is quick. When the number of emails is more, the process takes more time to complete. This makes the process comparatively slower. To ensure whether the emails are archived or not, you should go to File > Open Archive and then view the emails.
Second major step: Downloading the emails in Inbox of GroupWise in MS Outlook
The steps to download the GroupWise Inbox emails in MS Outlook are as follows:
Step 1: Open GroupWise mail client that is under 'Microsoft AD Network'
Step 2: In its Inbox, go to 'New Folder (GW Archives)'
Step 3: In the menu, click on the File > Open > Import tab. With this, the Import and Export Wizard appears
Step 4: From Import and Export Wizard, select 'Import from another program or file' action and click on the Next tab
Step 5: In the Import a File interface, from 'Select file type to import from', choose 'Outlook Data File (.pst)' and then click on the Next tab
Step 6: In the Import Personal Folders section, enter a name to save the PST file, check the 'Do not import duplicates' option, and then click on the Next tab
Step 7: In the Import Outlook Data File section, check the 'Include subfolders' box, select 'Import items into the same folder', and at the end click on the Finish tab.
 Note – This process takes approximately 20 minutes to complete.         
 Advantages
Does not prove to be heavy on your pocket
Disadvantages
Requires technical knowledge
(Need to be extremely careful while executing the steps as a single error or irregularity in any step can render the process as unsuccessful)
Takes more time to complete
 Method 2: Automated with use of a third-party tool
 The other way to convert GroupWise mailbox emails into Outlook PST is by using a third party tool. However, selecting one is difficult. You can opt for the advanced GroupWise to PST Converter from Stellar software as it offers users a number the following advantages —                                                                               
Saves converted mailboxes of GroupWise as PST successfully
Converts emails, attachments, contacts, document reference, discussion notes, etc.
Offers to save the converted emails in MSG and EML files also
Provides a preview of converted GroupWise mailbox items before saving
Converts multiple mailboxes together at once, thereby, making the process short
Compatible with GroupWise GW-2014, 2012, 8.0, 7.0, 6.5, and 6.0 versions

 Next, its Technician version permits multi-mode file conversion (Remote/ Cache/ Archive). Plus, it also provides the option to save converted files in Office 365, PDF, RTF, and HTM file formats.
 Advantages
Easy to understand
Easy-of-use as with just a few clicks
Less time consuming and hence quick
Does not require technical expertise
Less chance of making errors
 Disadvantages
 Summing Up
Both the manual and automated methods yield a successful result. However, the effort required while using the manual method is more in comparison to the use of a third-party tool, especially Stellar Converter for GroupWise. Above all, working with it is like an icing on the cake, giving you satisfying results!