Caution for MS Outlook Users During Windows OS 10 Upgrade
With Windows 10 being available as a free upgrade, a major section of Windows users have made the switch already or are thinking of doing so. However, there are a few aspects where the switch won't prove to be so good-and-shiny. This is particularly true for those who use Microsoft Outlook as their primary email client.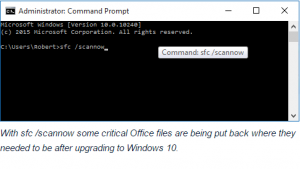 Outlook 2013 on Windows 10 is proving to be a not so reliable territory for users and many are facing issues in using the email client after the upgrade. In this article, we're discussing some primary areas that need attention and errors users may face when they try to work with Outlook 2013 on Windows 10.
Windows 10 compatibility with Outlook 2013
Let's begin with the basic question – are the two even compatible?
In theory, of course, they should be. In practice, you shouldn't expect for both to instantly work; instead, you'll need to do a little something to get things rolling. For Outlook 2013, that means first applying Service Pack 1 for Outlook 2013 or any additional updates before even launching the client on Windows 10. Plus, to ensure that Windows 10 compatibility with Outlook 2013 is never disturbed, it would be a wise option to set Windows Update to "include updates for other Microsoft applications" as well. That will also enable you to stay current with the latest Service Pack and update releases.
Note: The Service Packs to be applied before launching Outlook on Windows 10 differ according to the Outlook version you're using (2007, 2010 or 2013).
Now that we've sorted that out, let's come to a scenario where you've just upgraded to Windows 10 and applied the service packs and all. Up next is a brief description of some additional errors you may encounter.
Common Issues post the upgrade
If on launching Outlook you get a funny looking error even after taking care of pre-requisites, you're bound to be baffled. Well, don't be. Here are some common issues you may face and our helpful tips to resolve them easily.
Add-in incompatibility
Add-ins and Outlook users share a love-hate relationship. Love for the way they "add" cool functionality to Outlook; hate for the way they often fail and cause problems with the normal working of Outlook. So add-ins should probably be the first place you look into to fix issues of Windows 10 Outlook post the upgrade. Disable them by running Outlook in safe mode. Check from the add-in vendors if they are compatible with Windows 10 and then, if everything is fine, one-by-one enable them. Enabling them one-by-one also ensures you can pinpoint faulty ones.
Office 365 re-activation
Post the upgrade, on launching Outlook or any other Office application for the first time, Office 365 license holders may be prompted to log-in with their Microsoft Account credentials to re-activate their installation. Once you're through with the re-log-in, to add to the annoyance, you might get a warning saying that "Your license is no longer valid".
Fortunately, you can get rid of this warning quickly by going to
'Control Panel-> Programs and Features-> [Office application you're accessing] -> Change-> Quick Repair'.
That ought to repair your Office installation.
PST access denied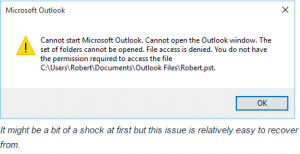 A very common occurrence, this error may cause the appearance of the message "Cannot open your folders. File access is denied" when you try to open Outlook. The reason for this message is messed up PST file permissions. To resolve this you'll need to grant your account "Full Control" permissions as follows:
Go to C:\Users\<yourName>\Documents\Outlook File\<pst name>.pst
Right-click and choose Properties -> Security tab -> Edit
Select your User account -> check "Full control"
Press OK until all boxes close and then restart Outlook.
Send-Receive Error

If you find the cryptic error code "0x800CCC13" on trying to send an email, it means you still have a lot to do to fix Issues of Windows 10 Outlook.
Open Command Prompt as Administrator (Right-click on Start and choose Command Prompt (Admin) or Windows PowerShell (Admin))
Type 'sfc /scannow' and wait for the process to complete (usually takes about 20 minutes)
Restart the computer
Email notifications absent
If you find that Windows 10 Outlook is not working with regard to the new email notifications, click on the Action Center icon in the bottom right corner of your 'Task-bar' to see your past notifications including emails from Outlook 2013. Also, it is important to remember that in Windows 10, Outlook 2013 shows a new email alert only if an email is delivered to the 'Inbox folder'. To make it show an alert for all emails:
Click on Start -> Settings -> System
Click 'Notifications & Alerts' from the left side panel
Click on Outlook in the "Show notifications from these apps" section.
Enable all notification options and close Settings
While these are the most common issues that could make you say that Windows 10 Outlook is not working, there can also be situations of something going wrong with the data within your PST files. For example consider a scenario wherein during Windows 10 upgrade Outlook 2013 PST file gets corrupted. Or after the upgrade while trying to fix another issue, you accidentally end up deleting the PST file or the data within it. You might end up with extensive damage.
To escape such a disaster, we'd advise you to keep a worthy tool called Stellar Repair for Outlook Software handy to repair Outlook PST File. This proficient tool is capable of fixing any kind of errors within PST files and reliably recovers your valuable data from them.
Here's hoping you'll be able to upgrade to Windows 10 without any glitches.