Transfer Outlook Express Emails into MS Outlook 2013
If you are a regular user of Microsoft email clients then you must have used Outlook Express. As it has been outdated now, so it is better to switch to the latest MS Outlook and convert all your Outlook Express emails (DBX file) to MS Outlook (PST) file format. To initiate this process, first you need to import all the content to Windows Live Mail. There is a manual and profession both the techniques available that you can use to import DBX to PST file format. The manual process becomes quite tricky sometimes. In case you are following a manual process, make sure that you follow step-by-step guidance. But make sure that you have taken backup of your original file, before performing any manual technique.
Process to import a DBX file to MS Outlook
Firstly, export Outlook Express files
Install Windows Live Mail
Import your Outlook Express data to Windows Live Mail
Export your imported data (of Outlook Express in Windows Live Mail) to Microsoft Outlook
Export DBX file from your Outlook Express account
Search the complete data of your Outlook Express and copy in separate folder on Windows XP. To do this look for the location of the message store, and go to OE's Tools → Options Maintenance tab and select 'Store Folder' button. Now, copy the folder path from Store dialog.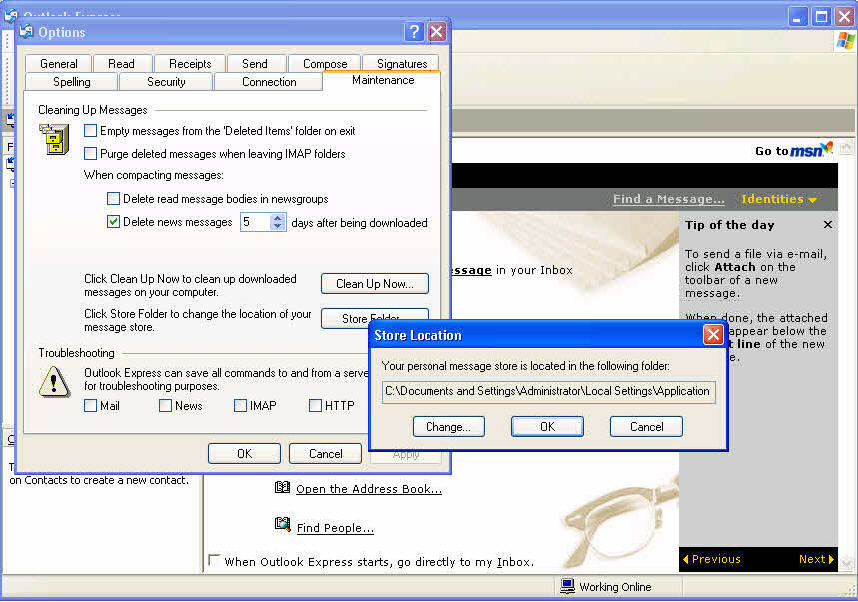 Now, close the all the windows with OE, and paste the folder path in Windows Explorer's address bar. Now you will get the exact location of your OE's DBX files. Copy this entire Outlook Express folder along with folders.dbx file to higher version of Windows such as Windows 7 computer. Locate this DBX file to My Documents folder in Windows 7 through a USB drive, Windows Live Mail can read the files from the USB drive.
Install Windows Live Mail:
Installation of Windows Live Mail would be very easy for you if you are using Windows 7 or 8. Directly download Windows Live Mail program and install it on your system. Once you have done with this process successfully, now follow the next step.
Import Outlook Express Email into Live Mail
After installing Windows Live Mail, go to File tab and select Import Messages.
Choose to import from Outlook Express 6 and locate the DBX file (Outlook Express folder), that you have copied from the Windows XP computer.
Select single or multiple folders and finish the wizard.
Import Address book (wab) in Live Mail:
Run Windows Live Mail address book module
Now, tap your mouse to File tab and then select Import. Windows Address book
Locate the WAB file that you have already copied and complete the wizard
Steps to export your imported data to Microsoft Outlook:
Run MS Outlook & Windows Live Mail applications at the same time on your system.
Firstly open Windows Live Mail and go to File Tab → Export → Email messages.
Now, choose format Microsoft Exchange and then press 'Next' button, you will get a confirmation message through a dialog box.
Click 'OK' button
Here by Select folders option you can choose all the folders or selected folders to export according to your requirement
Select 'OK' button
Wait till the process is running. Once the process is completed, you will receive a success message in a dialog box on your screen. Click on Finish.
Export Address book into Outlook
If you wanted to export Address book in your Outlook, then open the Live Mails' Contact module and export the addresses in CSV or vCard format. Now, import the file into Outlook format. In case you have exported the addresses as a vCard format, you can directly drag and drop them from the file system into Outlook's Contacts.
Limitation: Manual process is very lengthy and time consuming; you must have enough time to follow all of them, in case you have a large sized DBX file. In Addition, if you skip any of the steps you could lose your complete data, so this process is not 100% secured.
To avoid manual method limitations you can select Stellar Converter for DBX, which is professional utility that will not only convert your DBX file into PST but also allows you to save converted file into multiple formats, such as Office 365, MSG, EML, RTF, HTML and PDF Format. This DBX to PST converter tool can directly import your converted mail into Office 365, without following any further processes.