Spicebird was a free and open source personal information manager that supports email, calendaring, and instant messaging. This email and collaboration suite was developed by a company named 'Synovel'. Spicebird has been discontinued as of now. Spicebird can handle multiple SMTP/IMAP email server accounts. It uses MBOX file format for saving data of its local folders. The default location of Spicebird mail folders is shown below:
'C:\Documents and Settings\Administrator\Application Data\spicebird'
As this email client won't get any further updates due to the discontinued support, the users who have their email data in Spicebird are trying to make a switch to another email program with similar features and customizable experience. MS Outlook makes for a good choice for this email migration. Spicebird does not have an export feature to support moving mails to MS Outlook. You can perform this migration safely using Stellar Converter for MBOX. The software provides a reliable and convenient way to convert MBOX files of Spicebird to Outlook PST files.
Converting Spicebird Files To Outlook PST Files Using Stellar Converter for MBOX:
Run When you launch Stellar Converter for MBOX, the main interface of the software is displayed with the "Select Mail Client" to be converted dialog box. Select 'Spicebird' in the dialog. The Select File/Folder dialog appears on your screen. Click 'Select Identity Folder' button to select your identity folder for the conversion. After selecting the folder, click 'Convert' in the same dialog to initiate the process.

During the conversion, the software displays a progress bar to show the status of the process.

When the conversion is finished, the software lists all the local folders and other accounts in the selected identity folder in the left pane. If you select a folder in this list, all the message contained in this folder are displayed in the top-right pane. You can select and preview any message in the main interface.

Select the folders in the left pane you wish to save and click "Save Converted Mailbox" button on the toolbar. The Stellar Converter for MBOX is displated. In this dialog, click 'Create new PST File' to save the converted mails to a new PST File or Click 'Save data to existing PST File' to append these mails to an existing PST File. Specify the destination path for the Outlook PST and click 'Ok'


You are running:
Unknown OS
This tool is not compatible with this Operating System.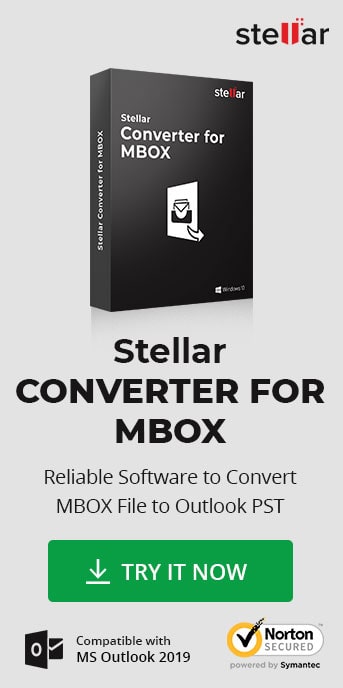 Testimonials
With joining new office, it wasn't feasible to continue my work on Thunderbird email client. My old emails were still needful for me. Thankfully, I had used this tool for migration from Thunderbird to MS Outlook 2019 and believe me it works!!
Jesse Cole