Thunderbird is an open source email, chat, and news client from Mozilla, which provides email and chat functionalities to the users. Microsoft Outlook is a web-based suite which lets the user stay connected in office, at home and on-the-go. The long list of Microsoft Outlook features and Exchange server support is persuading organizations to export emails and other mailbox components from Thunderbird to Outlook.
Converting from Thunderbird to Outlook is an organization-wide decision, and requires detailed planning, resource allocation, working hours, and technical expertise.
Where Thunderbird messages are stored in MBOX files, the Outlook files are saved in PST format. This means exporting Thunderbird to Outlook requires converting the MBOX files to PST files. For effective conversion of MBOX to PST file, use a converter tool such as Stellar Converter for MBOX. Admins can deploy Stellar Converter for MBOX and facilitate smooth migration from Thunderbird to PST.
Steps to convert Thunderbird Emails to Outlook PST files
1. Launch the software - Stellar Converter for MBOX.
2. The main interface of the software displays a pop-up Select MBOX window with multiple Email Clients in the drop-down list. Select the source email client you want to convert. In this case, it is Thunderbird.

3. Click Select File or Select Identity button and locate File/Identity. Alternatively, click the Find File option to search the file in available drives, folders and sub-folders.

4. The path of the selected file or identity is displayed in the File path text box. Select multiple MBOX files and list of all the MBOX files along with their file size is shown.

Note: By default, all the selected files in the File Path box are checked. If you choose not to convert any MBOX file to PST then uncheck the box for that file.

5. Click the Convert button to start the conversion of Thunderbird to PST.

6. After the conversion process is complete, you can see the preview of converted mail. The left pane displays the details of the MBOX under Root node in a tree-format. Verify the mail content by clicking on a particular mail. The content of the selected mail item is displayed in the right pane.

7. Go to the main menu and click Save Converted File button. A Save As window appears.
8. Click the radio button for the available Save Options and click Next to save the converted MBOX File.

9. A Choose Destination dialog box appears. Click Browse and select the location to save the converted Thunderbird file to PST file format as a new file. You can also save the converted file in another file format such as MSG, EML formats. The Stellar Converter for MBOX Technician version additionally provides saving options such as Office365, PDF, and HTML. Alternatively, you can also append the data in existing Outlook PST file.

10. The Outlook PST file is saved at the selected destination, and a message appears as selected items converted and saved successfully.

11. Click Ok to view the files.
A simple standalone emailing system like Thunderbird focus on emailing alone and has been around for long. However, the modern day communication is fast getting replaced with the multi-functional highly productive Microsoft Outlook, having functionalities like daily, monthly calendars and task reminder features, multi-device compatibility, instant messaging from free Skype, instant downloads along with secure emailing and scheduling. You can easily migrate from Mozilla Thunderbird to Outlook with the help of Stellar Converter for MBOX. The software helps export the entire Thunderbird data to Outlook within least possible time.

You are running:
Unknown OS
This tool is not compatible with this Operating System.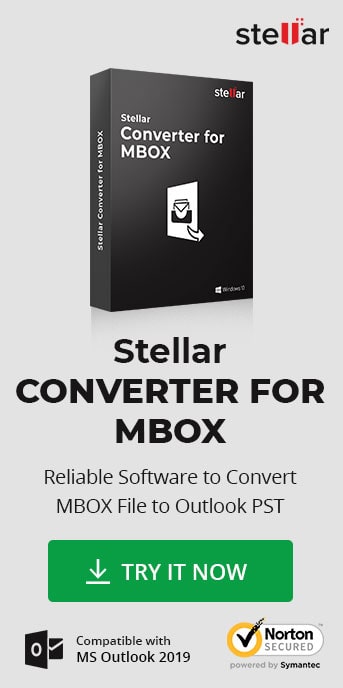 Testimonials
With joining new office, it wasn't feasible to continue my work on Thunderbird email client. My old emails were still needful for me. Thankfully, I had used this tool for migration from Thunderbird to MS Outlook 2019 and believe me it works!!
Jesse Cole