Stellar Converter for MBOX provides an easy solution to migrate mailboxes of various email clients including PocoMail, Thunderbird, Eudora, AppleMail, Spicebird, Entourage, Mulberry, SeaMonkey, Netscape, ClawsMail, OperaMail, MozillaMail, Evolution, Sylpheed to MS Outlook. The software allows you to convert emails in your MBOX files to Outlook PST files, which can be imported easily into MS Outlook. With the help of this tool, you can convert an entire identity folder containing multiple MBOX files.
The software is result-oriented, and easy to use. It displays a preview of all converted emails before saving them to a new or existing Outlook PST file. This advanced utility keeps the original email format and maintains mailboxes hierarchy.
Follow the below mentioned steps to convert MBOX to Outlook :
On the main interface of Stellar Converter for MBOX, click and select the particular email client for conversion. Then, select the MBOX file to be converted, click 'Select File' to select the desired MBOX File from a known location. In case the exact path of the file is not known, click 'Find File' to search for this file in a specific volume, folder, or subfolder. You can also convert multiple MBOX files simultaneously that are stored in a single identity folder. Click 'Select Identity Folder' button to choose the desired identity for conversion.

If you click 'Find File' button, the 'Browse for Folder' dialog box is displayed. Select the required drive/folder/subfolder and click 'Ok' to search for files. Once you click 'Ok', the software displays a list of all MBOX, MBX, MacMBOX, and Apple Mail files found in the selected logical volume. Select the desired MBOX file and click 'Convert' to start the conversion.
Once the scanning-process is completed, all converted mail items are listed in a tree-format inside the left pane. You can preview your mails by selecting the corresponding mail folder from the left pane and then the desired mail item from the top-right pane.

Select the folders to save, and click on 'Save Converted Mailbox' button on the toolbar. You can choose to save the converted emails to a new PST file or an existing PST. Choose the desired option and specify a destination for saving the PST file.

After completion of the process, a pop-up appears with the following message 'Data saved successfully'. Click on Ok button.

MBOX file is successfully saved as PST file. Now you can import it in MS Outlook.

You are running:
Unknown OS
This tool is not compatible with this Operating System.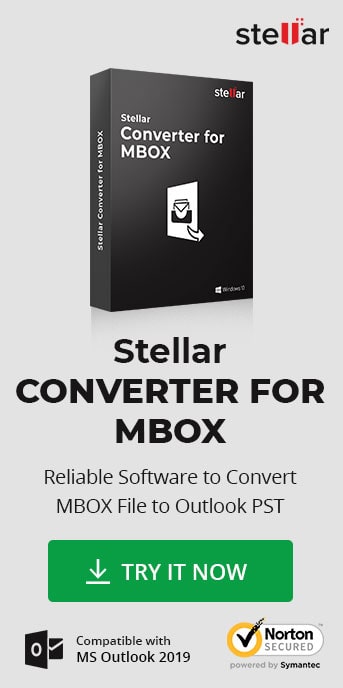 Testimonials
With joining new office, it wasn't feasible to continue my work on Thunderbird email client. My old emails were still needful for me. Thankfully, I had used this tool for migration from Thunderbird to MS Outlook 2019 and believe me it works!!
Jesse Cole