Eudora is an email client that supports both Macintosh and Windows platforms. Initially, Eudora was not an open source software, but a commercially available product. The light mode versions of Eudora were available since July, 2010 and the application was renamed as Eudora OSE (Open Source Edition).
Eudora has support for POP3, IMAP, and SMTP protocols. It uses a modified MBOX format to save emails. MBOX files are plain text files containing a group of messages stored in a mail folder. In Windows, the default location of Eudora mail folders is shown below:
'C:\Documents and Settings\Administrator\Application Data\Qualcomm\Eudora'
The support for Eudora has been discontinued by its vendor. So, if you are planning to switch from Eudora, then MS Outlook is a prudent choice. To make this switch, you need to convert Eudora files to Outlook PST files. Stellar Converter for MBOX is a user-friendly tool that safely converts email messages from Eudora into PST format.
Converting Eudora Files To Outlook PST Files Using Stellar Converter for MBOX:
Run Stellar Converter for MBOX. Select 'Eudora' from the main interface. The next screens will be 'Select File/Folder'. Click 'Select File' to select and .MBX(modified MBOX) file for conversion and click on Convert to start the conversion process.

The software begins scanning and converting the selected file. The process status is shown in the progress bar.

After the conversion is completed, all the messages in the selected file are displayed in the top-right pane. You can select any message to preview its contents in the main interface.

Click on "Save Converted Mailbox" button available on menu bar to save the converted file as 'PST'. You may choose to save all the converted messages to a new PST or save them to an existing PST. Select the desired option; specify a destination to save the PST file, and click 'OK'

Stellar Converter for MBOX saves the converted mails in a PST file at your specified location.


You are running:
Unknown OS
This tool is not compatible with this Operating System.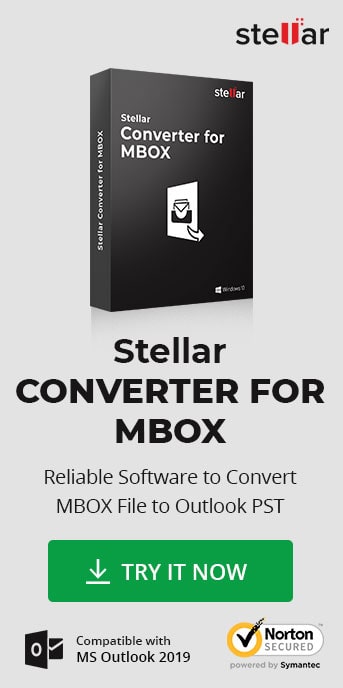 Testimonials
With joining new office, it wasn't feasible to continue my work on Thunderbird email client. My old emails were still needful for me. Thankfully, I had used this tool for migration from Thunderbird to MS Outlook 2019 and believe me it works!!
Jesse Cole